Many public and private schools have resumed across the country for academic activities on Monday amid rising COVID-19 infections.
The federal government, however, mandated schools to adhere strictly to COVID-19 protocols. But reports from states have revealed that several schools do not adhere to these protocols.
Partial compliance in Abuja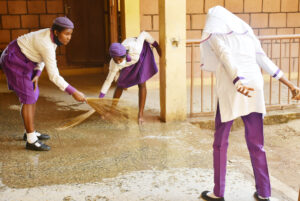 Reports have shown that at the Government Secondary School, Karu, a suburb of Abuja, two spots for washing of hands were provided at the school entrance, but one out of 10 people washed their hands before entering the premises. There was also no temperature check for those entering the premises.
At the L.E.A Primary School Byazhin, Bwari Area council, teachers and teachers wore face masks, and checked their temperature before entering the school premises. However, pupils entered their classes without washing their hands.
Junior students have free day in Lagos
Reports revealed that Dairy Farm Senior Secondary School, Agege, District Junior College, Sango Junior Secondary School, Agege, Sango Senior Secondary School, have wash hand basins, infrared thermometers and students inside classrooms used face masks, but those in the junior classes loitered around without face mask.
Pupil turned back in Plateau
Primary school teachers in Plateau State on Monday said they would not return to the classrooms on empty stomachs.
At Township Primary school in Jos North local government area, on Monday, teachers who showed up turned pupils back home. The gate of St Luke's primary school in Jos North was under lock and keys as neither the teachers nor the pupils were around.
In Kaduna, no facemask no entry
Report has shown that Kaduna Polytechnic adhered strictly with the COVID-19 protocol. S
tudents, lecturers and visitors without face marks were denied access to the school premises. People are also handed hand sanitizer from the gate, while physical distancing was strictly adhered to in the classes.