Last week, the Gombe State University (GSU) conferred an honourary Doctorate Degree of Science on Hadi Usman, a 70-year-old self-taught 'engineer' who single handedly invented a radio transmitter, a Vespa-engine helicopter and a mobile as far back as the 1970s.
He recently invented a water-powered stove and power generating plants that generate energy up to 7.5 kva without the use of any fuel.
In this interview, the 70-year-old self-taught investor opens up to 21st CENTURY CHRONICLE team on his life, passion, ambition, challenges, among others. Excerpts:
For how long are you working as an inventor?
My journey as an inventor started in 1971, when I started working as a technician for Vespa motorcycles here in Jekadafari and later relocated to the Sabon Layi area of the metropolis. It was while I was working as a Vespa technician that I created a mini two-seat helicopter. Unfortunately, it crashed during test running and my father discouraged me from continuing with the project.
I abandoned the project and left the Vespa workshop because it was the trade that resulted in the creation of the helicopter that crashed.
Later, I started working as an electronics technician and I opened a workshop for repairing appliances like radio, television and what have you in 1972.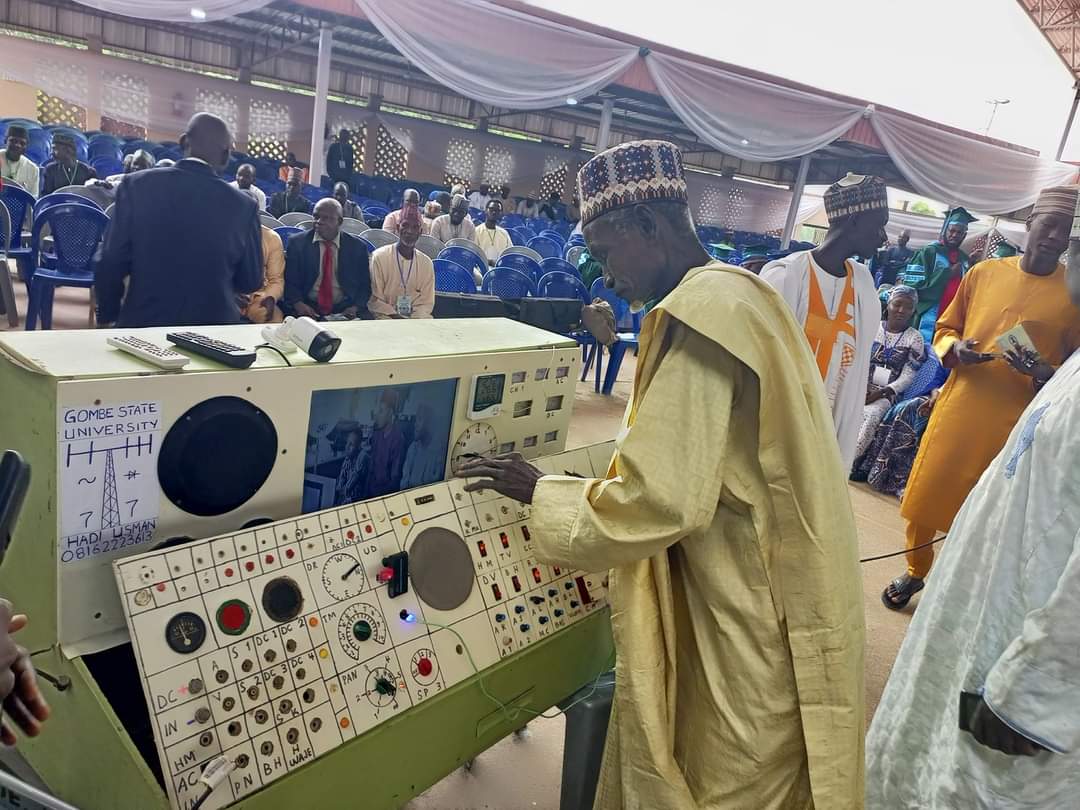 In 1975, I started thinking of setting up a radio station which will cover my immediate environment.
When I started, a lot of people showed interest in the project, so I upgraded the station to cover about 45 kilometres away from the station. I employed 35 staff to work in the radio station, although about 28 of them were working voluntarily without receiving any salary.
What are the successes you have recorded for the past 50 years as an inventor?
I have achieved a lot and recorded several success stories with my inventions. In fact, from 1971 when I started this venture, I have invented about 78 items. Not to mention other small items that I don't even record. About two years ago I invented a stove that uses water. This project gave me recognition, after which the Gombe State University offered me a job to be teaching their students. I think that the most important part of my success is my job with the GSU, imagine a person that has never sat in a classroom, now teaching undergraduate students of a university.
What are the challenges you faced over these years?
I have encountered a lot of challenges, but I was able to overcome most of them. At the beginning even my father was not supportive, he prefers me to follow his footsteps, because he is an Islamic cleric. It was much later that he agreed and gave me his consent to continue with my dreams.
Another problem is financial limitation which is the sole reason that it always takes me a longer time before I can come up with a new invention. For instance, when I came up with the idea of a water powered cooking stove, it took me three years of research before I concluded. Had it been I have money; this is a project that I can finish in less than one year.
As such, whenever I have an idea of any invention, I will be developing it gradually no matter how long it takes, until I can save enough money to complete the project.
How do you think the government can help address some of these challenges?
Since I started my invention in 1971, I have made several appeals to the government but it didn't come to fruition. However, there are several ways in which the government can help in mitigating the challenges.
Firstly, the government can set up a centre of invention or an invention hub where youths can be trained on vocation skills that will make them self-reliant without waiting for the non-available white-collar job.
Secondly, the government can help us with start-up grants to establish such technology incubation centres that we can manage ourselves, thereby creating employment opportunities for the teeming youth population.
What is your advice to young and aspiring inventors?
I always advise people that have interest in science and technology to have these three things. If they want to succeed, they should have patience, be obedient and have perseverance in whatever they are doing, with these, they can succeed.
For instance, without perseverance I would have abandoned these inventions back in 1980, but I continue because my goal was to make into reality whatever I have in my mind.
I always tell people, to succeed in life, one must discard three things, because without them one cannot invent even a cover of a bottle. Number one is to discard fear of losing money, secondly the fear of getting injured while doing the job and thirdly is to do away with the fear of wasting your time. Because if you have these three fears, you would not go anywhere in life.
But the most important thing is that you must have confidence in whatever you are doing, without confidence one cannot do anything worthy in this life. But with confidence you can excel in whatever you are doing.
What are you currently working on and what problem does the invention intend to solve?
In the last quarter of 2022, I started working on a power generator that works without fuel, gas, diesel, solar panel or water. It has a power of 7.5kva alternator.
The project needs a lot of money to be concluded, and people have developed interest in purchasing the generator. But it is still not completed and I would not collect money until it is fully completed.
There is a saying that necessity is the mother of invention. And it was my desire to help people seeing how they struggle to buy fuel to power their houses. So, it is a work to offer solutions to excessive power cuts without using fuel which apart from being expensive, it also endangers the environment.
How do you feel when GSU honoured you with the doctorate degree?
Words cannot express how excited I was when the GSU informed me of their plan to award me an honorary doctorate degree. I have never felt that happiness in my whole life, all I can say I am honoured and felt fulfilled as my little efforts are recognised by one of the great citadels of learning, the Gombe State University, and I will forever be grateful for that.
Also, the Vice Chancellor, Professor Aliyu Usman El-Nafaty deserves a special prayer from me, because even before this doctorate degree, the university has offered me employment to be teaching undergraduate students at the university's Centre for Entrepreneurship Development Studies.
How do you get into contact with the GSU?
My relationship with the GSU started after I invented the water powered stove. The university management invited me to demonstrate how the stove works during a conference on entrepreneurship and innovations. After my presentation, the vice chancellor, Prof. El-Nafaty offered me a job to teach their students at the centre for entrepreneurship development studies.
I was offered an appointment and have been teaching the students for about three years now and I have maintained a good working relationship with both the students and other lecturers.
How do you handle language barriers?
As I have told you before, I have never sat in a classroom to learn the western education. But as a scientist I cannot perform my job without the skill to read and write in English language. Because names of the components of the electrical appliances are written in the English language not Hausa. Therefore, to overcome this great challenge I have learnt by myself how to read and write in both English and Hausa.
Also, before you can teach in a university or any western school, you need to understand the English language because among the students there are maybe some that don't even understand Hausa.
So, about 45% of the lectures are conducted in Hausa, while the remaining 65% are in English and by the way it is more practical than theoretical.
My students are from across all the faculties and departments of the university, my classes are open to all students of the university that show interest in order to become self-reliant.
We started with 30 students, 10 each for electrical, electronic and satellite installation. Those that are studying the satellite installation have a graduation period of three months, while five months for those learning electrical. But for the electronics it is over one year because of the complications.