President Bola Tinubu on Tuesday in Abuja assured ambassadors in Nigeria of his administration's readiness to maintain open lines of communication and cooperation.
Tinubu gave the assurance while receiving Letters of Credence from the ambassador of Angola to Nigeria, Mr Jose Bamoquine Zau and that of the Kingdom of Belgium, Mr Pieter Leenknegt.
Those who also presented their Letter of Credence were the ambassador of the Kingdom of Norway to Nigeria, Mr Sevin Baera, and the ambassador of the Bolivarian Republic of Venezuela to Nigeria, Mr Albert Castelar.
Chief Ajuri Ngelale, Special Adviser to the President on Media and Publicity, stated that Tinubu pledged the determination of his administration to focus on advancing mutually beneficial economic opportunities across sectors.
In separate meetings with the ambassadors, Tinubu emphasised the importance of strong diplomatic relations and expressed his willingness to engage with the foreign missions.
He also told the ambassadors that the Foreign Ministry and the Office of his Chief of Staff would always be available to interact with the foreign missions to address matters of concern.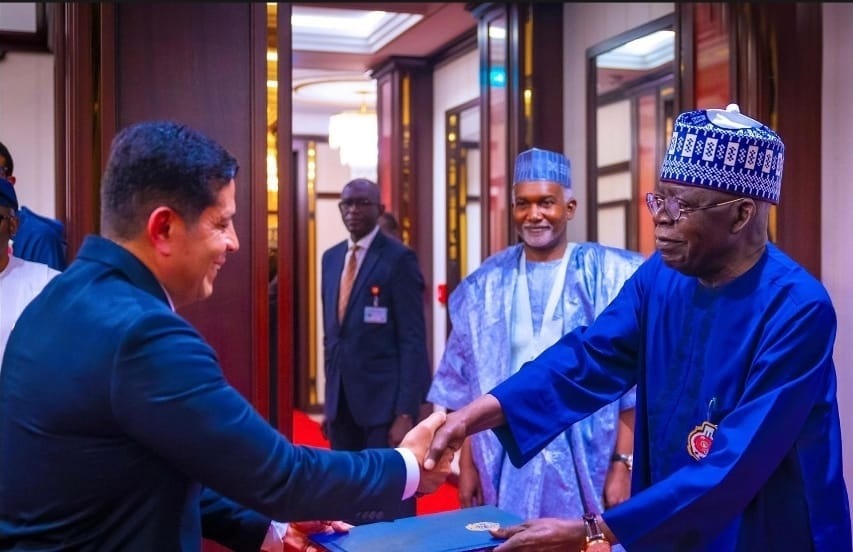 "We will maintain an open-door policy. We are ready to do anything that will make your stay rewarding and our relationship strong.
"Do not hesitate to bring up any matter with the Foreign Minister or my Chief of Staff; they will bring it to my attention,'' Ngelale quoted Tinubu as assuring.
At his meeting with the Angolan ambassador, Tinubu congratulated President Joao Lourenco of Angola on his re-election and referred to him as "a very good friend''.
Also, while receiving the Belgian ambassador, Tinubu acknowledged the active participation of Belgian companies in Nigeria's maritime industry.
He expressed the need to strengthen political and economic cooperation with Belgium, particularly in the maritime and energy sectors.
The president also exchanged views with the ambassador on the potential of dredging of the Calabar Port to make it more viable for revenue generation.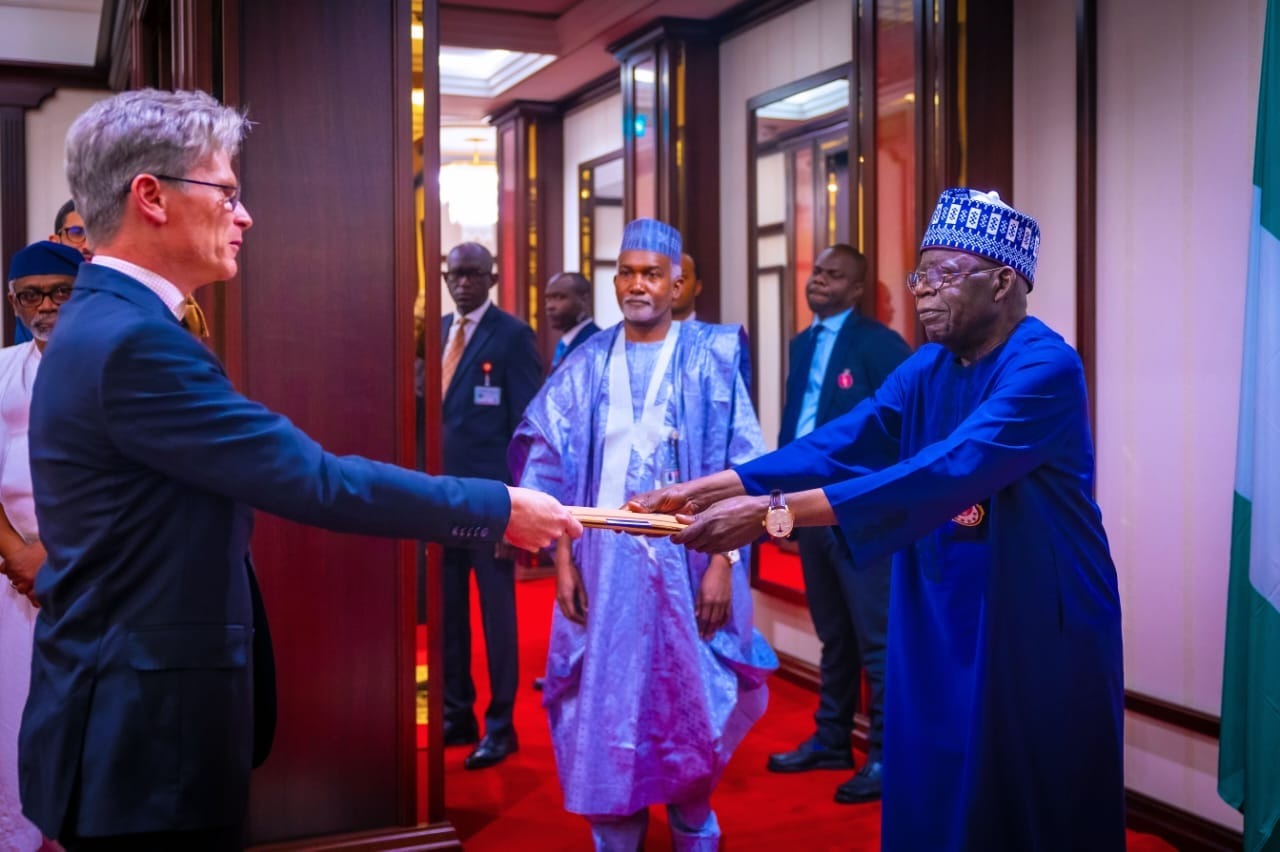 In his discussions with the Norwegian ambassador, Tinubu articulated his energy transition vision for Nigeria.
The president stated that the transition from petroleum to gas to hydrogen was a priority for his administration.
He called on Norway and other EU-member countries to support the economic reform programmes of his administration.
This, he said, was particularly in the areas of food security, preservation, and other key agro-allied investments.
"You are a valuable partner, and we need your support.
"We have the population in Nigeria, and one out of every five black persons is a Nigerian. We must stimulate our economy.
"If Nigeria succeeds, Africa succeeds. This government is promoting a lot of reforms, and it is committed to improving the ease of doing business,'' Tinubu stressed
Responding, the Angolan ambassador expressed gratitude to Nigeria for its role in liberating his country from colonial rule.
He expressed his commitment to building sustainable partnerships between the two nations.
"I have four years to stay in the country, and I have the mandate of my president to build bridges between our countries.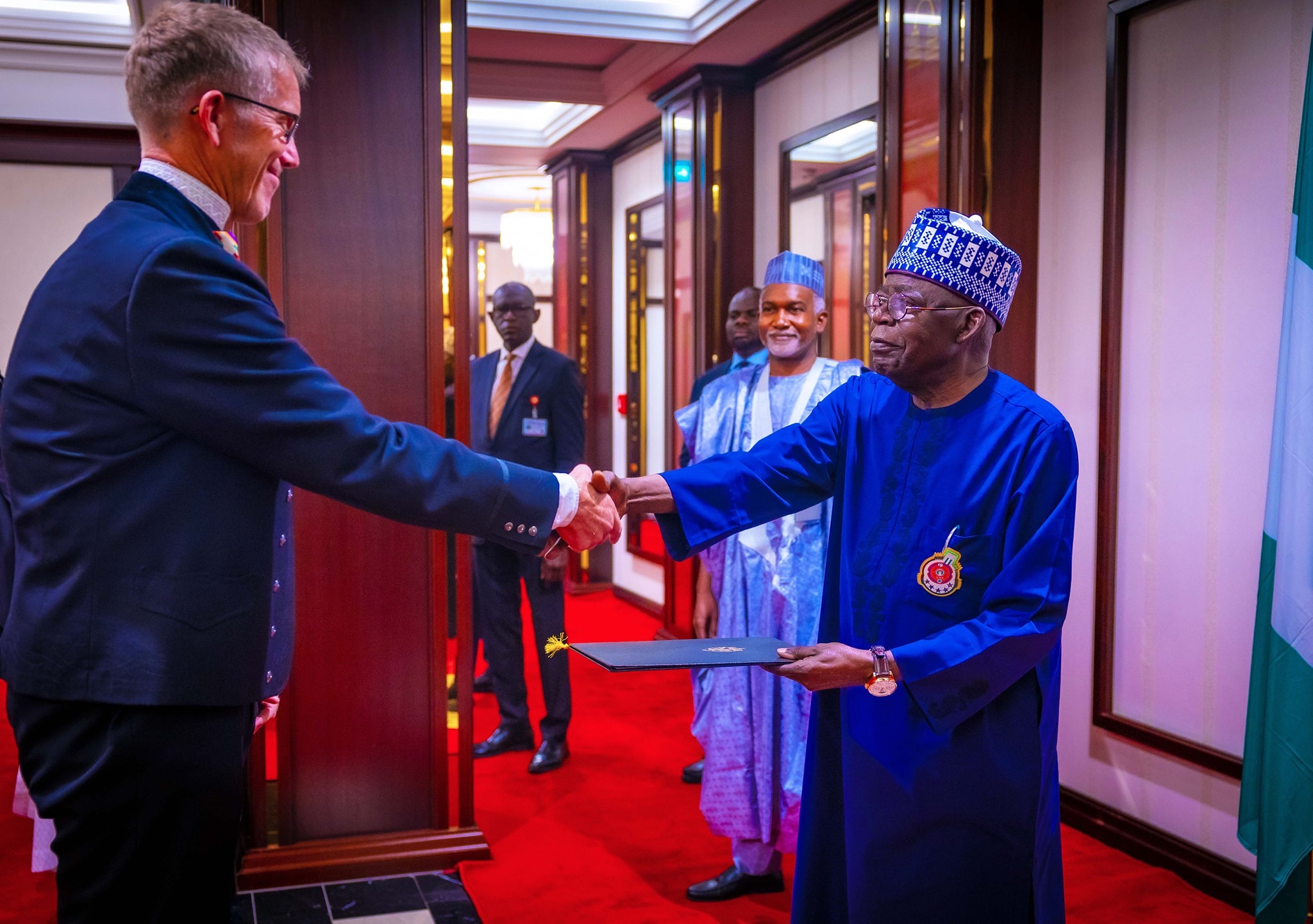 "I am here to work to build a sustainable partnership,'' Zau said.
In his remarks, Amb. Leenknegt of Belgium discussed the commercial linkages that bound the port of Antwerp with ports in Lagos and Onitsha.
He expressed interest in expanding Belgian presence at the Calabar Port.
He also called for enhanced ministerial engagements between the two countries, noting the interest of Belgian companies in Nigeria's renewable energy sector.
Amb. Baera of Norway congratulated Tinubu on the recent affirmation of his election by the Supreme Court.
"The bold steps you have taken on economic reforms since your assumption of office have been well received by Norwegian firms,'' he said.
He stressed the need to strengthen business partnerships between the two nations, noting that there were great interests of Norwegian firms in Nigeria's agriculture and energy sectors.
He highlighted the recent investments in Nigeria's growing cocoa and solar panel industry.
The ambassador of the Bolivarian Republic of Venezuela to Nigeria called for the establishment of direct flights between Nigeria and Venezuela.
He expressed his country's desire to deepen economic partnerships between the two oil-producing nations across multiple sectors, in terms of trade and investments.