Brass works, the many centuries-old vocation synonymous with Nupe people of Niger State, are gradually losing relevance and fading away.
In Tswata Mukun, Gbonugbofu and Tswatako areas of Bida town, open mud huts are a common sight. At the peak of activities in brass works, the huts served as workshops where copper, alloys and zinc were transformed into different end products like pots, boxes, jewelry, souvenirs, spoons and minarets.
It was learnt that brass basins and plates gained popularity around the world as decorative wares for the homes of the bourgeoisie in the 16th Century.
A historian and conservator from University of Abuja, Dr Abdullahi Masaba, said when silver and gold replaced brass as decorative metals, brass found other uses in the manufacture of household wares.
Dr Masasba explained that, "Brass later became a major material for the manufacturing of surveying, astronomy and navigation instruments, among others."
He said brass works were introduced into Nupe land in the 18th Century during the reign of the then Etsu Nupe, Alhaji Usman Zaki, and were handed down from generation to generation, adding that it served as the main driver of the economy of many families in the kingdom for many decades; with farming serving as a complementary vocation.
Dr Masaba further said during the period when brass products were in vogue, merchants thronged Nupe land from different parts of the country, and even from countries like Senegal, Niger and Chad to acquire them.
He explained that over decades, however, brass activities became extinct in Bida environs and were restricted to Bida town, the headquarters of the kingdom, due to scarcity of raw materials and shrinking demand.
Making brass products
In Bida, a few notable brass families are refusing to let go the conservative centuries-old vocation despite its declining status; with the elderly giving up on the once thriving trade and leaving a few youths to preserve it as a legacy.
In a mud hut in Tswata Mukun, seven-year-old Adamu Bako Mukun worked the bicycle wheel attached to the bellows. His job is to ensure uninterrupted supply of air to the base of fire to aid combustion that will melt metals.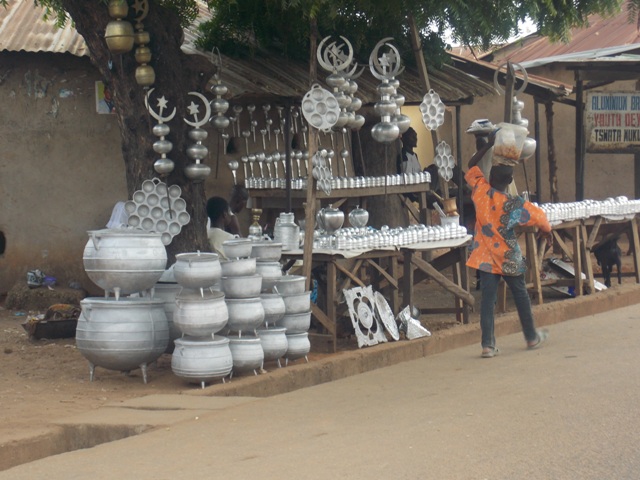 Adamu's elder brother, Abubakar Mukun, took over from there as he placed the raw material, an aluminum stump, in a special basing suspended on the fire. The brass stump gradually turned into liquid after some minutes. The liquid brass was then purified through filtering. The molten brass was broken and beaten into the required shapes and sizes over an anvil.
The senior Mukun then lifted the aluminum onto a master tool called Etusi and started hitting it into shape using a patagi (hammer). From time to time he returned the item to the fire to soften it.
Gradually a spoon-like shape began to emerge as Abubakar used a caving bowl to mould it into the desired shape. Then the smoothening process commenced with a filer, while some palm oil (or kerosene) was applied to give it a silver-like look. The artist then went ahead to engrave inscriptions on the product.
It is a process that takes hours to bring a product to the required shape, and which Abubakar said was discouraging some youngsters from embracing the trade.
He said, "You can see that despite the advancement in technology and modernisation, traditional method is still being used, and it takes many man hours and energy, and one doesn't get value for all the effort."
Taking the aluminium route for survival
Abubakar said most of the brass smiths were turning to aluminium and other metals as the industry was dying due to expensive materials and low demand for the products.
Giving credence to Abubakar's claim, Dr Masaba said, "Aluminium items are available and less expensive, but even at that, without government support the industry is barely surviving and a few youths that defied the odds to remain in the trade are beginning to exit."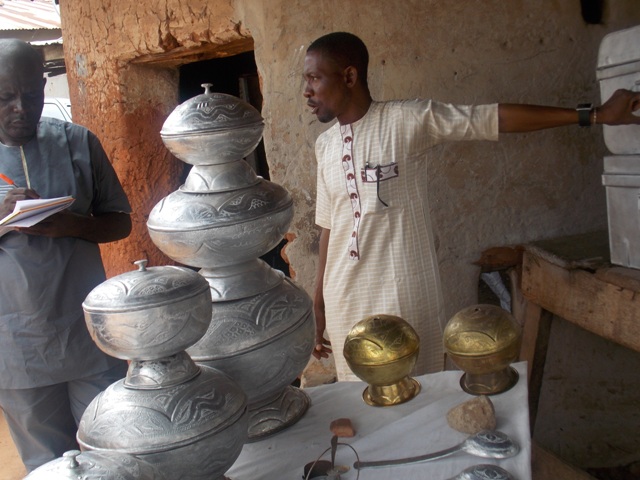 Dr Masaba also confirmed that brass woks were facing extinction, with local manufacturers shifting to aluminium "due to fall in the demand for brass items, followed by high cost of production."
He, therefore, urged the federal government, through its various relevant agencies, to encourage the shift to aluminium beyond its current status for advanced and scientific use.
He also advocated for a less manual method of fabrication, especially with the availability of technology.
Brass, aluminium utensils not so healthy – Expert
According to an expert in metals, Dr Anita Emmanuel, it is not always safe to cook with brass and aluminium utensils, explaining that using brass cooking wares is dangerous to health.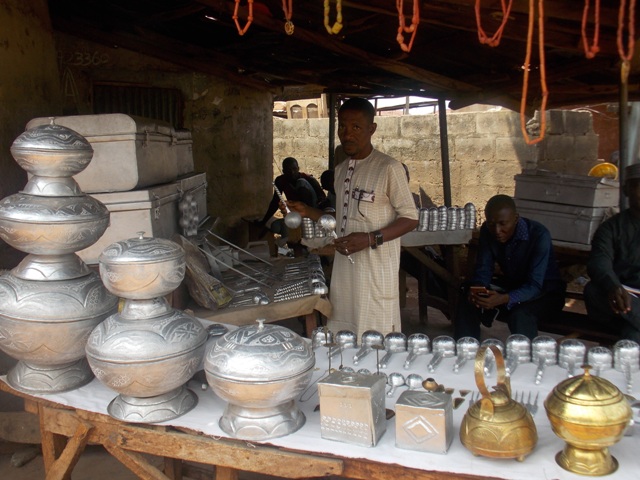 Dr Anita, a biochemist, said, "Brass contains zinc, and if a brass cookware is heated at high temperatures required to cook food, the metal leaches into the food and water that it comes into contact with and this is injurious to the health of whoever consumes such."
According to her, the same applies for aluminium utensils, noting that when heated too much and with long term usage there will be "pathological effects of aluminium on the human body due to leaching and associated conditions such as dementia, anaemia and osteomalacia."