The National Hajj Commission of Nigeria (NAHCON) is shielding one of its staff who violated the Electoral Act 2022 and the Public Service Rules to contest the 2023 governorship elections in Oyo State.
The hajj commission official was identified as Tawfiq Tayo Akinwale, who contested the governorship election in Oyo State under the banner of Labour Party (LP).
Mr Akinwale contested the March 8 governorship election in Oyo state while still in the services of the hajj commission, in clear violation of the Public Service Rules.
Mr Akinwale s name, with Serial Number 636, had appeared in the 'Final List of Candidates for State Elections: Governorship and State Assembly', published by the Independent National Electoral Commission (INEC) on its website ahead of the 2023 general elections.
In the INEC final list, Mr Akinwale declared that he was 48-years-old, and presented only a Senior School Certificate Examination (SSCE) as his only certificate.
Mr Akinwale contested the election alongside Ms Esther Adebimpe Akanji as his running mate.
What is surprising is the fact Mr Akinwale joined the Labour Party, contested its governorship primaries in Oyo State and emerged as its flag bearer in the March 8 elections without resigning from NAHCON as stipulated in the Public Service Rules and Electoral Act 2022.
What the law says
The Public Service Rules provide that all civil servants must resign their appointments 30 days to the general Election Day. However, findings revealed that Mr Akinwale didn't refuse to resign from NAHCON, but he was also sponsored by the commission to official local and foreign trips while he was campaigning as Labour Party candidate in Oyo state
The commission, it was revealed, didn't stop his salaries and allowances as provided for in the extant laws.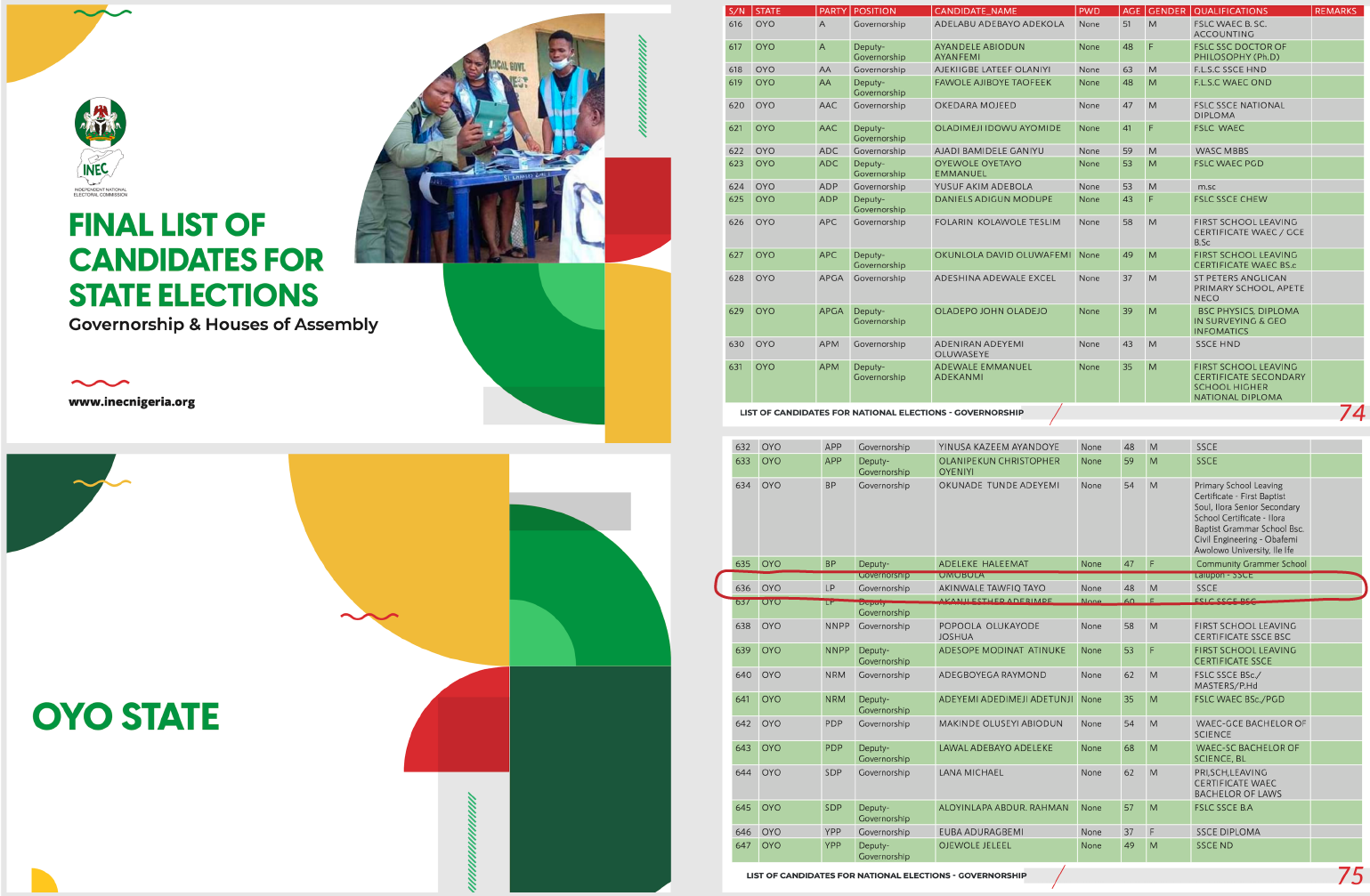 The provisions of sections 66 (1); 107 (1) (f); 137 (1) (g); 142(2); 182 and 187(2) of the 1999 Constitution are consistent that an individual in public service must resign their position 30 days to an election for all the various positions such as: Senate, House of Representatives, House of Assembly, Governor and Deputy Governor, President and Vice President.
Rule 030422 of the Public Service Rules stipulates that "No officer shall, without express permission of the government, whether on duty or leave of absence: (b) offer himself/herself or nominate anyone else as a candidate for any elective public office including membership of a Local Government Council, State or National Assembly."(c) indicate publicly his support of or opposition to any party, candidate or policy;"(d) engage in canvassing in support of political candidates."
Rule 030423 of the Public Service Rules requires that "Resignation is necessary before seeking elective public office. Howbeit, any officer wishing to engage in partisan political activities or seek elective public office shall resign his/her appointment forthwith."
After losing the Oyo state governorship election to PDP's Seyi Makinde, Mr Akinwale has since returned to his duty post at the Hajj commission, findings have revealed.
NAHCON's complicity
Findings by this newspaper revealed that Mr Akinwale didn't resign his appointment from NAHCON before he contested and lost the election. And NAHCON didn't make any effort to reprimand him or sanction him during and after the elections as required by the relevant laws.
However, some Concerned Staff of the hajj commission have accused the management of the hajj apex regulatory agency of complicity. They said the Barrister Zikirullah Kunle Hassan-led management and board is shielding Mr Akinwale because of "ethnicity and favoritism."
In a letter dated 28 April, 2023, titled "Breach of Civil Service Rules," and addressed to the Head of Civil Service of the Federation, the NAHCON staff said despite flaunting the Public Service Rules and presidential directive, no sanction was meted to Mr Akinwale.
The letter reads, "As we are preparing to celebrate Workers Day, we as concerned Staff are compelled by the situation on ground to bring to your kind attention an infringement/breach of Civil Service, Public Service and Presidential Directive by a Staff of the National Hajj Commission of Nigeria (NAHCON) Mr Tawfiq Tayo Akinwale who contested the 2023 Oyo Gubernatorial Elections as the candidate of Labour Party.
"2. As you are aware there is no provision of Civil or Public Service that permits a Federal Government employee or appointee to contest in a general election without resigning from their respective employment. But this is the case in the Commission as the Chairman and the Board refuse to sanction and apply the rules of Civil/Public Service to Mr. Tawfiq Tayo Akinwale due to nepotism and favouritism. His salary was not stopped, and he was part of Foreign and Local Official trips while he was still a candidate of the Party.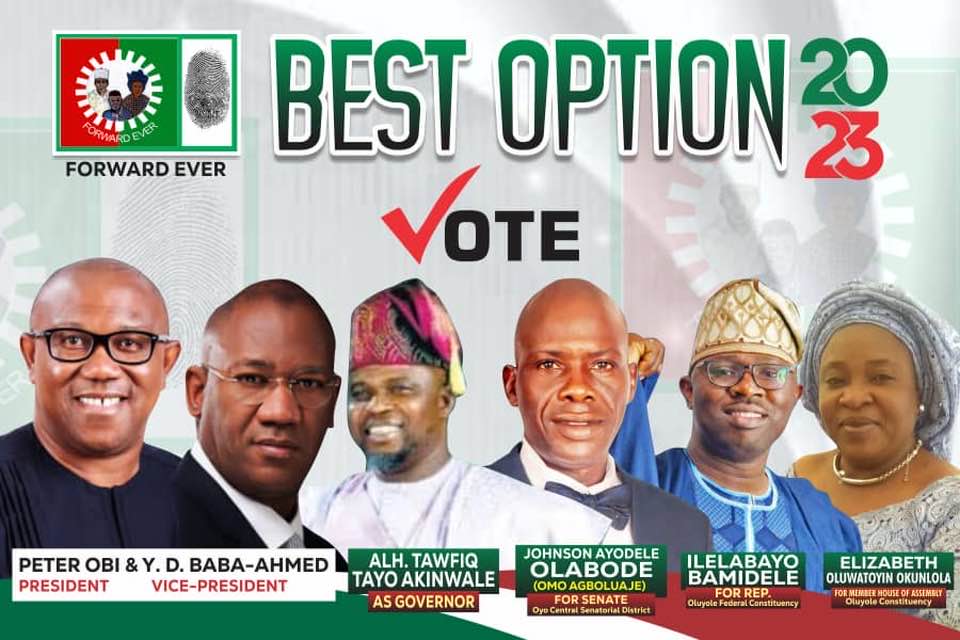 "3. When he was employed in the Commission he was employed as a degree holder, a certificate that is in contention by those who know him very well. Evidently, he submitted only SSCE results to INEC. For ease of reference see INEC Portal List of Oyo Governorship Candidates no.636 page 75 (print copy attached). We are therefore compelled in the interest of justice, fairness and equity to appeal to your good office to apply the rules of Federal Government to the Staff.
"4. We look forward to your meticulousness on the above petition."
NAHCON reacts
Competent sources in the commission had revealed that Mr Akinwale did not officially resign his appointment as a staff before he went and contested the governorship election.
The highly placed management staff of the commission, who was not authorised to speak said, "When NAHCON saw Akinwale's posters and proof of registration as a candidate, was contesting, he was confronted, but he denied it."
The sources said Mr Akinwale told the commission that "he knows his rights and knows what to do, but right behind the scene Mr Akinwale was contesting the governorship election."
The official said Mr Akinwale was queried, "but his response was not satisfactory to the commission."
The source confirmed that Mr Akinwale was actually sponsored on both local and foreign trips by the commission, but said that were done before he was queried.
When 21st CENTURY CHRONICLE contacted the NAHCON's Director of Administration, Ibrahim Sodangi for official comment, he refused to speak, asking the reporter to write officially to the commission, to obtain whatever information we required on the matter.
However, the Deputy Director, Informationa and Publication, Mousa Ubandawaki, told journalists that the commission was not aware of the concerned staff petition against Mr Akinwale.
He said, "We are not aware of the petition, and he [Akinwale] is in the best position to answer your question."