Typically, when people who wear their hair in dreadlocs are seen, what readily comes to mind is that such people are mentally unstable; live a rough life associated with musicians, especially Reggae musicians or that they are dirty, while others associate dreadlocs with marijuana smoking.
These are some of the misconceptions people have about Rastafari. Many people also believe that Rastafari are mostly people from Jamaica.
But in Abuja, there is a growing community of Rastafari people who are Nigerians.
A visit to the Rastafari community, tucked in the mountainous Mpape area of Abuja will correct some of these impressions.
A three-minute drive from the outer northern expressway into the lone access road to Mpape, then a right turn on the new tarred road takes you to Hills Pride gardens, which hosts the Rastafari Community in Nigeria.
According to the Curator for Hillspride Entertainment Festivals at the Rasta village, Oga Brown, the community came into existence in 2006 but got official recognition from the FCT authorities in 2012, as part of Maitama Kuchi district of the FCT.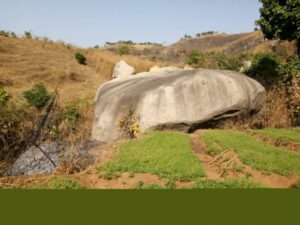 Asked if all residents of the community migrated from Jamaica, the Rastafari capital of the world, Brown, speaking a little Patoi, responded "oh no no no. Me, I Nigerian, and so is most of us.''
Explaining why they chose to live in a forest area in the mountains, he explained that the Rastafari who live in the community are mainly into agricultural activities and grow crops like cassava, yam, bananas and vegetables.
He added that they are also into a lot of art work.
When 21st Century Chronicle visited, there were a lot of carvings, especially of cooking utensils and decorative pieces on display.
"Rastas are usually down to earth and natural, and they also enjoy themselves,'' Brown added.
On the issue of how those who wear dreadlocs are regarded in society, he said: "perception has been one of the greatest problems of Rastafari people, not just in Nigeria.''
He quipped rhetorically "how many people did you see smoking hemp when you came for the Reggae Fest volume 1? And not all Rastas smoke 'Ganja'."
Another discovery at the community is that not all Rastafari wear dreadlocks.
Judah Shekari is from Kaduna State. He moved there almost 30 years ago and lost his wife 24 years ago but has been able to raise his children responsibly.
"These are all my children with me; this is Marcus, he is studying in Korea, this is my second son, he is doing his youth service and this one is my niece. So you see, Rastas are very disciplined people, not rough as people wrongly think,''Shekari said with a sense of pride. His other family members could be seen cooking and going about other house chores.
Rastas, agriculture and herbs
When asked the link between Rastas, forests and mountains, Shekari, quoted copiously from the Bible, verses that talk about eating natural foods.
In the case of the Rastas, he explained that they grow what they eat, adding that they stay in the forest because Rastas believe in being close to nature, which forms their deep spiritual roots.
So, if you thought smoking 'ganja' was a 'sin', Shekari had a full page of Bible quotes to justify that God gave man every herb on earth for food, and every seed bearing plant for medicine.
"See me, I am almost 60, and I am still…,'' at this, he jumped up to show how healthy and agile he is, attributing it to ganja smoking.
When asked if he allows his children to smoke hemp, he said, "Everyone, including you should take hemp. Take it as tea, it's good for your health."
Dreadlocs are spiritual
Maria John is wife to a Rasta. Though not one, she wears her hair in locs because of how spiritual it is to her.
She said, "I was sleeping and dreamt that I was carrying dreads. When I woke up, I decided to start it, even though I had refused to do it when I first married my husband," she said.
Maria and John have a 6-year-old daughter, Angel, who has never had a comb in her hair since birth.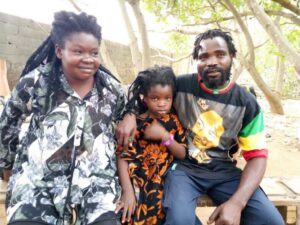 Angel also doesn't have any issues at school for wearing her hair in locs, contrary to expectations, taking into cognisance the widespread misconceptions about the Rastafari life style.
"Angel's teachers understand her origin. Dreadlocks just show how spiritual a Rasta is; it has nothing to do with being rough," John said.
For women and other people who wear dreadlocs as a form of fashion or maintaining their hair, John said, "everyone who wears dreadlocs, whether they know they are Rasta or not, have a spirit of boldness in them. Without dreadlocs, you can hide (and do bad things) but with it, you can't hide, you know!''
Rastafari 'mansions'
Rastas refer to their denominations as Mansions, taken from the Biblical verse in John 14:2, "In my Father's house are many mansions.''
The three distinct orders among them are: Boba Shanti, Nyahbinji and the twelve tribes. Many individual Rastas are only loosely affiliated with these mansions or not at all, in keeping with the principle of freedom of conscience, a general distrust of institutionalism shared by many, and the teachings of Haile Selassie I as Emperor, that "faith is private" and a direct relationship requiring no intermediary.
Beliefs, however, differ between the mansions, with varying views on the Bible, dreadlocs, diet, and use of ganja.