The glamourous lifestyle of the entertainment industry has a lot of twists and turns, and sometimes has adverse effects on the personal lives of those in the spotlights. Relationships in other field of colleagues is usually frowned at. But people in the movie and music industries can fall in love and even marry each. In the Nigerian movie industry for instance, there are many actors who took their 'on-screen' love into the real world. While some of these relationships hit the rocks almost immediately, others have stood the test of time, and are worth some kind of celebration.
21st CENTURY CHRONICLE set out to have a peek into some of these relationships.
Joke Silva and Olu Jacobs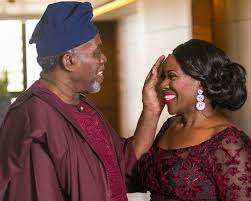 Joke and Olu are veteran actors, known even before the industry rose to become Nollywood. They have been married for over 30 years and are unarguably Nollywood's oldest power couple. They have been able to weather the storm and their marriage would easily pass as a template for new couples in the industry. Both of them have been rated as the hottest couple in Nollywood. Olu Jacobs and Joke Silva met in 1981 at the National Theatre in Lagos during the 21st Independent Anniversary.
They both studied Art in London schools. While Olu read at the Royal Academy of Dramatic Art, studying Performing Arts, Joke studies drama at Webber Douglas Academy of Dramatic Arts . In 1985, they got married and two grown up children and a grandchild.
Peju Ogunmola and Sunday Omobolanle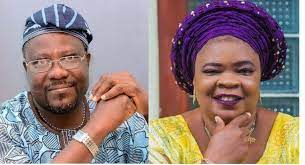 Papi Luwe is a Veteran Yoruba Comic Actor, Movie Director and Scriptwriter generally most known in the Yoruba Movie Industry. His real name, Sunday Omobolanle is almost unknow.
He and his actress wife, Peju Ogunmola, have been married for over 3 decades and still counting.
Papi Luwe used to work with Pa. Ogunmola, Peju Ogunmola's father. Whenever they travelled all over the federation for stage plays and were returning to Lagos, they always stopped at Pa. Ogunmola's house. According to Papi Luwe, he met Peju in her father's house.
More popular than his wife, Peju, Papi Luwe, the  Creative Actor has Collaborated and Worked with many Yoruba Celebrities Including Toyin Abraham, Funsho Adeolu,Adekola Tijani, Afeez Eniola,Mercy Aigbe, Ayo Mogaji,Femi Adebayo,Yetunde Bakare, Aishat Lawal, Afeez Abiodun,Funke Akindele,Saidi Balogun, Muyiwa Ademola,Leye Kuti,Wale Akorede,Ronke Odusanya and Other Yoruba Celebrities.
He was Honoured with a National Award in 2013 by Chief Olusegun Obasanjo for his Contribution to the Nigeria Movie Industry.
Gloria and Nobert Young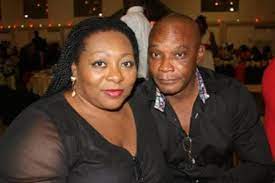 Veteran Nollywood Actors, Norbert Young and Gloria Young met on a movie set and got married in 2002. A big celebration of their 19th wedding anniversary in June 3,2021. Norbert Young and Gloria Young are both Nollywood actors and have also featured as husband and wife in many movies. They are currently blessed with three lovely children.
Norbert Young recently played the role of Ali Mahmood in the film Rattlesnake: The Ahanna story while Gloria played the role of Chief Ngozi Maduako in the same film.
Gloria studies journalism, graduating with an Associate Degree from the El-Centro College in Dallas, Texas, in the United States of America and even practiced for a while before diverting into acting. Nobert on the other hand, studied Fine Arts at the University of Benin.
Gloria and Nobert Young are undoubtedly one of the oldest celebrity couples in the Nigerian film industry. Till date , there have not been any reports of them having any  any marital issue known to the public.
Mide Martins and Afeez Abiodun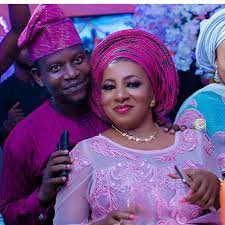 Nollywood actress and daughter of late Funmi Martins, Mide Martins, is married to her beau, Afeez Abiodun Owo who is also an actor. The couple has been married for over 13 years, and they are proud parents of two lovely girls.
Mide Funmi Martins, had disclosed that she married her husband, Afeez Abiodun aka Afeez Owo who was her mother's manager because of his qualities she found in him. She said, "He proved to be a reliable person. He is faithful, caring, and has a good heart plus the fact that he is very easy-going. All of these appealed to me and I reasoned that I should give him a chance in my life."
This marriage suffered a brief separation but the couple later reunited in April, 2016.Their 17th wedding anniversary came up on September 8th, 2021. They are proud parents to two lovely girls.
Ibrahim Suleiman and Linda Ejiofor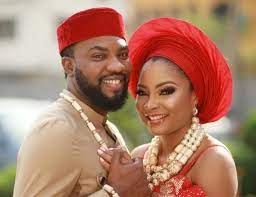 Linda Ejiofor is a model and actress who met her husband Ibrahim Suleiman on set for an MNet TV Series, Tinsel, which they both featured in. The duo tied the knot on November 11, 2018. The pair also emerged from Tinsel where they were paired as lovers. Linda Ejiofor once told the media that she and Ibrahim been friends for years before they decided to take the relationship to the next level after sharing a closer relationship on the set.
Their union clocked three years in 2021, and Ibrahim couldn't wait to shower his wife with love and praise for always being by his side, birthing their son Keon and making him the luckiest guy in the world.
To celebrate their third wedding anniversary, the actor took to Instagram, posting a sweet video from their wedding day with the message;
Three Years. Feels like three weeks, but then I look at Keon and realise that my arithmetic is off . Three years of God's love, mercy, and abundant grace. I love you, my friend. I love how intentional you are about choosing me every day. I love how with us, even the most trying days can be funny. I love how you let me take care of you, provide for you, support you. Because before I came along, you could do all of that for yourself.
I love how much family means to you. I love how you try so hard to be better daily. I love how you catch my eye from across a crowded room, and everyone else just disappears.
Thank you, for being my Partner, my Guy, my Lover, my Confidant, my Confessor, my Coach, my Queen, my sounding board. Thank you for Keon. Thank you, for You.Happy Anniversary, Sunshine. I'm the luckiest guy in the world because I get to love you. I am truly grateful for you.
Liz Benson and Bishop Great Ameye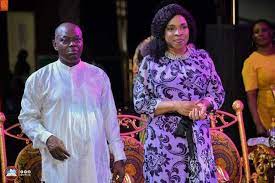 Liz Benson born as Elizabeth Benson is a Nollywood Actress, television personality, Evangelist and Philanthropist. Liz began acting at the age of five. Her popularity begun when she featured in Fortunes, a television soap opera in 1993. At this time, she and her contemporaries made the waves as the super girls of the movies in Nigeria, and were tagged the first ladies of Nollywood.
Liz played the part of Mrs. Agnes Johnson in the soap, Fortunes, which ran for about two years on the Nigerian Television Authority network. In 1994, she also featured in Glamour Girls, a very successful home video that focused on the theme of prostitution.
The movie shot her into prominence and gradually she warmed her way into the minds of millions of Nigerian movie fans. Surprisingly, just when her rating as a leading actress had begun to rise even higher than expected, Benson disappeared from the screen. She quit acting in 1996. Liz became a born-again Christian and started preaching the Gospel.
In a quiet court ceremony in Abuja in 2009, She married Bishop Great Ameye of Freedom Family Assembly at the Rainbow Christian Assembly in Warri, Delta State. The couple are deeply involved in a Christian Evangelical Ministry. While Benson is an evangelist, her husband, Ameye, is a pastor.
Blessing Jessica Obasi and Stanley Ebuka Nzediegwu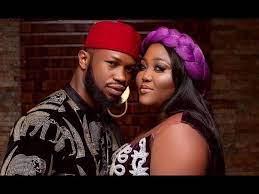 Stanley Ebuka Nzediegwu is a popular Nollywood actor who recently played the role of Ahanna in a 2020 Nollywood remake of Amaka Igwe classic, Rattlesnake.
Stan Nze was born May 15, 1989 Lagos, Nigeria.
Blessing Jessica Obasi is another popular Nollywood actress from Abia State south Eastern Nigeria. She is also a producer and entrepreneur. The couple tied the knot September 11,2021.
Yewande Adekoya Abiodun and Abiodun Isola Thomas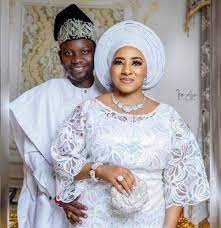 Abiodun Ishola Thomas is an actor, movie producer, brand influencer and movie director while his wife, Yewande Adekoya Abiodun is an actress, filmmaker and content creator. Yewande was born on the 20th of January 1984 in Lagos State but hails from Ososa-Ijebu, Ogun State.
The couple got married in 2013, and their union is blessed with two children. They are a lovely and beautiful couple, who's fondly known to share their love life and entertaining content on their verified Instagram pages. Yewande Adekoya and Abiodun Thomas celebrated 11years of being lovers and 8years of being married in February 14, 2021.
Yewande can be proud to say that she got married to her best friend, actor, Abiodun Thomas, and they have been able to manage their home for 8 years and still counting.
Toyin Abraham and Kolawole Ajeyemi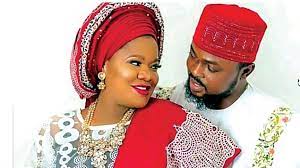 In July 2019, Toyin had a traditional engagement with Nollywood actor, kolawole Ajeyemi, and together they welcomed their first child in August 2019.
Toyin Abraham is one Nigerian Nollywood celebrity who has not been so lucky when it comes to marriage. The actress has experienced a couple of unsuccessful marriages over the years. However, Toyin Abraham seems to be quite happy in her current relationship with the Nollywood actor Kola Ajeyemi as she is always posting loved up pictures while referring to him as "oko mi", her word of endearment to her husband.
Following her past marriage experiences, the Nollywood sensation Toyin Abraham had earlier resolved not to get involved in any form of romance with a fellow Nollywood actor anymore. However, fate kept tilting her path towards that direction, and that was how it led her to meet her current partner, Kola Ajeyemi. It has been gathered that the couple had always known each other within the industry and have been good friends for up to a decade as Toyin often sought Kola's help regarding her accommodation any time she was in Abeokuta for a film shot. Notwithstanding, the duo gradually became very fond of each other, and therefore, their once-friendly relation later metamorphosed into a romance. Recall In 2013, Toyin got married to Adeniyi Johnson, a Nollywood actor. But the marriage lasted for two years.
Okiki Afolayan and Bimbo Ogunnowo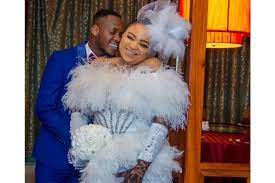 The union of top Yoruba Movie Director, Okiki Afolayan and rising Nollywood actress , Bimbo Ogunnowo came as a shock In September 2018 when the news broke that the two best of friends eventually fell in love with one another and they were set to marry themselves legally. Today, the rest is history. Okiki and Bimbo can take their love to any length.
The couple celebrated their second-year anniversary in the year 2020.
Taking to her official Instagram page to acknowledge the anniversary, Bimbo, the mother of one revealed how happy she was to have chosen Okiki as her husband.
According to Bimbo, she made the best decision ever when she accepted to marry Okiki.
In her words;
" WITH ALL THE UNCERTAINTIES OF LIFE, I am glad I was able to make the best decision ever ! Happy 2nd anniversary BABE"